Wendy houses for kids can be an awesome way to keep your little ones playing outside in a healthy environment where they can let their imaginations go wild and have fun without being cooped up inside. There are a great many ways to make a plain and simple little wendy house in the garden transform into a fantastic play area for your children. Many suppliers of Wendys will assist by building a small wendy house for you and you can paint them in a variety of bright and fun colours which your kids will love. They can keep some of their favourite toys inside and have everything from little tea parties with their friends inside to turning them into imaginary castles. Take a look at our menu to find a supplier near you who can build the perfect little wendy house for children in your garden. You can even have fun with your kids, by going on a mission to find some cute little furniture for their Wendy house.
Kids Wendy houses are really not that different to your standard wendy houses so it just takes a little bit of creativity to make them look beautiful and exciting. You can cut out some fun shapes and attach them to the walls and doors and add little extras like a chimney to your kids playhouse. It won't take much and they'll completely at home in their new wendy house.
Speak to manufacturers in your area and get some quotes. You'll find that wendyhouses for kids offer great value when you compare the cost to what taking the kids out a few times out and entertaining them would come to.The best part is that even if they do end up writing all over the walls inside with their crayons, it's not a train smash and they can really go a little wild without driving you crazy. Whether they're playing at being Hansel and Gretal or just relaxing with a game. There's no doubt plenty of healthy fun to be had.
Wendy houses for kids often offer many years of joy to a child. Many parents find it incredibly frustrating how they buy expensive toys for their children, only to find them completely destroyed a few days later. With a good solid kiddies wendy house, at least you know that they can have fun for a long, long time. When it comes to kids Wendy houses, we're only really limited by our imaginations so here we've taken a look at various websites and put together some ideas for…
Wendy houses for kids.
Simple is fun!
Wendy house from recycled pallets.
Source: Webecoist
Wedge play house.
Source: Gardenista
This one is taken from compare4kids
We also wanted to find the most insane examples we could, of what could be accomplished with some crazy imagination, masses of of cash and some serious power tools. Check these out:
Pirate ship wendy house.
Source: Poshtots
Fantasy house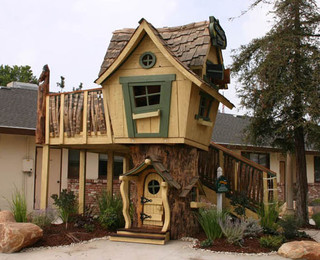 Source:
Houzz
Got 90 grand to spend? How about this Bavarian playhouse?